Why Travel to Colombia?
Overview of reasons to visit this forgotten corner of South America
---
If you want cities full of history and culture, go to Italy. Looking for quaint colonial towns? Visit Spain or Mexico. In need of an adrenaline fix from adventure sports? Head to New Zealand. Fancy a spot of trekking up mountains or across glaciers? Go to Argentina. Are jungle treks your cup of tea? Visit Brazil. Or do you simply want to relax on stunning tropical beaches? Head to Jamaica.
Or... for ALL of the above crammed conveniently into one country? You guessed it - travel to Colombia!
The majority of South American countries possess a large capital, often a port city, with an under-developed hinterland.
This is not the case in Colombia.
Colombia has five cities with populations of over a million in addition to several other sizeable urban centres.
Colombia's large sprawling capital, Bogota, is located right in the middle of the country at a lofty altitude of 2,600m, from where the rest of the country slopes down towards ocean, thick jungle or low-lying plains.
Bogota's tourist board love to promote the city as being 2,600m closer to the stars. While this may be true your chances of actually seeing stars, or indeed any other celestial body, are in fact not all that great due to the cloud cover which tends to hover over the city.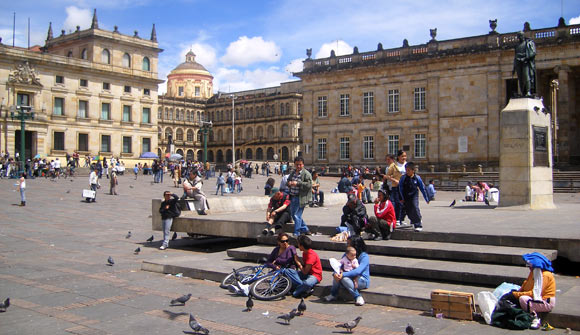 Plaza Bolivar, Bogota
However, Bogota's slightly unappealing weather should not deter you from visiting this fascinating metropolis which contrasts traditional colonial buildings and plazas with towering modern skyscrapers and a thriving nightlife scene.
Colombia's capital Bogota tends to be the first stop when people travel to Colombia and is well worth at least a couple of days.
In addition to the capital, there are many other fascinating cities to visit which each possess their own unique charm.
Among these are the city of eternal spring, Medellin (famous for its Flower Festival, friendly people and beautiful women), Cali, the capital of salsa music, and Colombia's top toursit destination, Cartagena (possessing arguably the most impressive colonial district on the continent, with close proximity to pure white sandy beaches).
If the pace of things in Colombia's larger cities gets a bit much you can always retreat to one of a myriad of small colonial towns dotted throughout the country.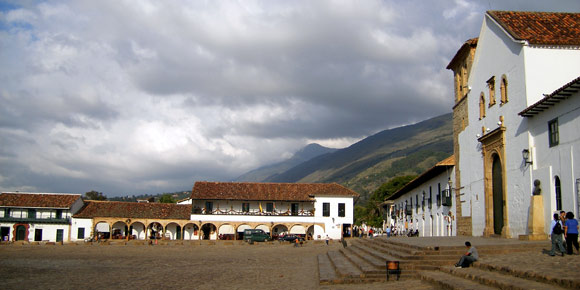 Stunning colonial town of Villa de Leyva
Visiting the likes of colonial town Villa de Leyva or delightful Barichara will have you believing you've stepped back in time a hundred years or more as horse-driven carts pass along narrow cobbled streets weaving their way through the traditional white-washed colonial buildings.
Arguably even more impressive than Colombia's towns and cities are the incredible natural landscapes of every type imaginable found in this country.
You can literally be atop a snow-capped mountain or glacier one day to wandering across a desert the next. Colombia also contains some of the most biologically diverse jungle in the world.
As the only South American country with coasts on both the Atlantic and Pacific oceans Colombia also boasts miles and miles of stunning beaches and two very different varieties of marine life in each of the two oceans.
As you can see, the reasons to travel to Colombia are endless!
Return from Travel to Colombia to Homepage