Hotels in Colombia
Boutique hotels, self-catering apartments, backpacker hostels
---
As the number of visitors to Colombia grows, so too does the range of hotels in Colombia.
The quality of accommodation in Colombia from luxurious modern city hotels to budget hostels has improved enormously.
When I first came to Colombia as a penny-pinching backpacker in 2004, there was only one hostel of note in each of Bogota, Medellin and Cali. Now you can barely move in La Candelaria in Bogota or El Poblado in Medellin without coming across a hostel.
The quality of backpacker accommodation has also improved in leaps and bounds. The old image of cockroach-infested hostel dorm rooms is a thing of the past. Colombian Hostels these days are equipped with comfortable, clean living spaces, flat screen TVs, well-equipped kitchens, free internet and even swimming pools.
The competition for upmarket hotels has also sky-rocketed. As the Colombian economy has strengthened more and more business travellers are making their way to Colombia. Most of the top hotels are equipped with conference rooms as well as the usual range of luxury amenities you would expect in a top-of-the-range hotel.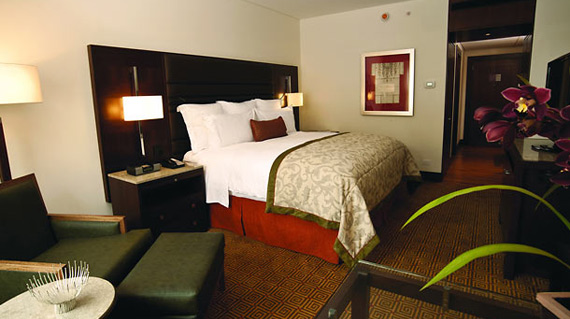 Hotel Marriott, Bogota
All of the destinations on this site features a 'Hotels' Section. Here are links to hotel guides for some selected Colombian destinations:
Hotel Guides for major Colombian cities:
Bogota
Not surprisingly the Colombian capital Bogota boasts a huge range of hotels and hostels.
Backpackers tend to gravitate to the central La Candelaria district where a large number of hotels can be found. Those with deeper pockets head to the north where the majority of the luxury hotels in Bogota are found.
Medellin
The mountain capital of Medellin is home to some of the best hotels in the country.
The El Poblado district has become Medellin's principal accommodation district for visitors of all types. The area around Medellin's international airport, 'Jose Maria Cordova' also contains some impressive hotels.
Cali
Despite being considerably smaller than Bogota and Medellin, Cali possesses a wide range of accommodation.
Cartagena
Being the tourism capital of Colombia, Cartagena has a terrific selection of accommodation.
Many of the best hotels offer fine views across the Caribbean or are dotted throughout the charming streets of Cartagena's colonial quarter.

Hotel Dann, Cartagena
Return from Hotels in Colombia to Homepage