Map of Colombia
The following map of Colombia shows all departments (states) and major cities, town and other natural landmarks of special interest.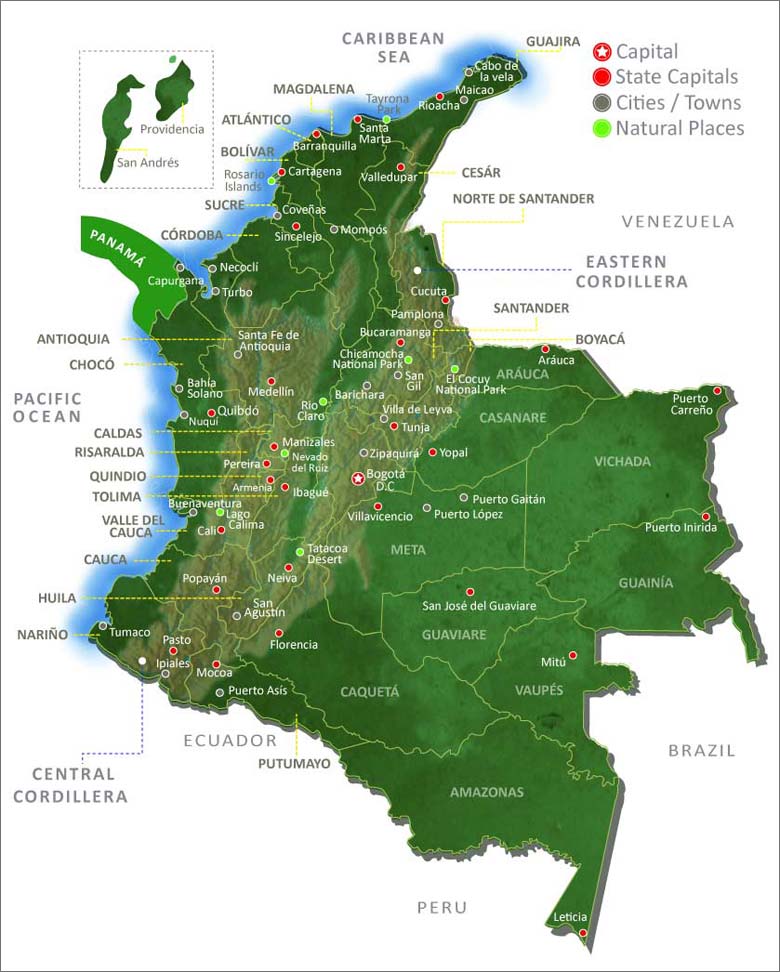 The most prominent feature of the Colombian landscape is the two large mountain ranges (Central and Eastern Cordilleras) which sweep through the West of the country after seperating in two in the south of the country in the department of Huila.
Also of significance is the Magdalena River which begins in Huila and travels north in a large valley between the two mountain ranges before dumping into the Caribbean Sea at Barranquilla.
The majority of the south-west of Colombia is thick Amazon jungle.
As you can see from the map the majority of Colombia's cities are found in the central and western regions of the country principally along the two Andes mountain ranges; the Central and Eastern Cordilleras.
The Colombian capital Bogota D.C. is situated on a savannah high up on the Eastern Cordillera. Colombia's second and third cities (Medellin and Cali respectively) lie at lower altitudes in the Central Cordillera.
The largest of Colombia's departments are situated in the south-east of the country, but are very sparsely populated with much of the terrain being of virgin rainforest.
Of Colombia's two coastlines the Atlantic/Caribbean is by far the most developed. The Atlantic coast includes the popular tourist destinations of Cartagena and Santa Marta, as well as the important port city of Barranquilla.
Colombia's Pacific coast remains very wild with the vast majority of the coastline bordered by thick jungle. Towards the south lies the city of Buenaventura. Despite being very poor Buenaventura is Colombia's most important port.



Click here for a map of Colombia departments