Flights to Colombia
Internal, International flights
---
Options for both domestic and international flights to Colombia used to be quite limited.
However, in recent years a number of airlines have emerged, including some budget airlines, which have increased competition and as a result brought prices down.
Internal Flights
The following are the 5 main domestic carriers in Colombia.
All of these airlines offer promotions, but they are sometimes very short-lived (often only 24 or 48 hours) so it's a good idea to register to receive notifications and check the site as frequently as possible.
All websites now accept payments online with international credit cards.
Avianca is the biggest domestic airline in Colombia and covers the vast majority of the country. They have a well organised website (available in English) that offers frequent promotions. Avianca also have a number of routes within the Americas and to Europe so it is worth checking their website for flights to Colombia from abroad.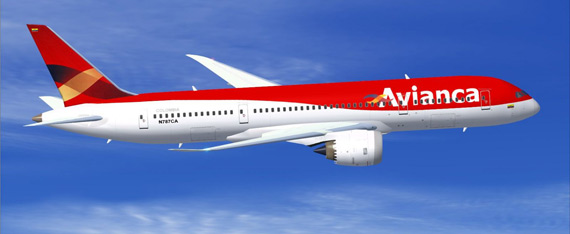 Avianca is Colombia's biggest national airline
LAN is a Chilean Airline which in December 2011 purchased Colombian airline Aires. LAN is a good choice for common domestic routes and also international flights.
Copa (previously Aero Republica) is another big carrier with an extensive number of routes. Another easily-to-follow website (available in English).
Satena is a relatively small Colombian airline. It can be quite handy for some smaller destinations that the bigger airlines don't fly to. However, prices are often a little expensive.
Viva Colombia is the country's only true low cost airline. Based in Medellin, Viva Colombia began operations in 2012 and currently flies to 9 national destinations with a view to expanding in the coming years to include international flights. For the cheapest fares only a maximum of 10kg of carry-on luggage is permitted. You can add check-in luggage of up to 20kg for an additional cost. Viva Colombia close check-in an hour before departure so be sure to arrive in plenty of time.
Viva Colombia: your best bet for cheap domestic flights
Easyfly is one of Colombia's newer airlines and aims to offer cheap flights. Its routes are still somewhat limited, but it is well worth checking out their website (Spanish only) to see if you can snag yourself a bargain.
International Flights
A large number of airlines run flights to Colombia. Avianca, LAN, and Copa (see above) all have a good number of international routes.
American Airlines and Iberia also have numerous flights to North America and Europe.
It's best to check either on the airline websites or one of the many cheap flight sites such as CheapFlights.com, Expedia, or SkyScanner.Net.
Return from Flights to Colombia to Homepage