Salento


Population 10,000 Quindio Department
---
The small town of Salento lies at an altitude of 1900m, nestled in a stunningly beautiful area of lush green hills, valleys and coffee plantations, and within hiking distance of jagged mountain peaks.
While somewhat overshadowed by the glorious countryside which surrounds it, the town is pretty enough to explore a little, and is a great place to buy souvenirs.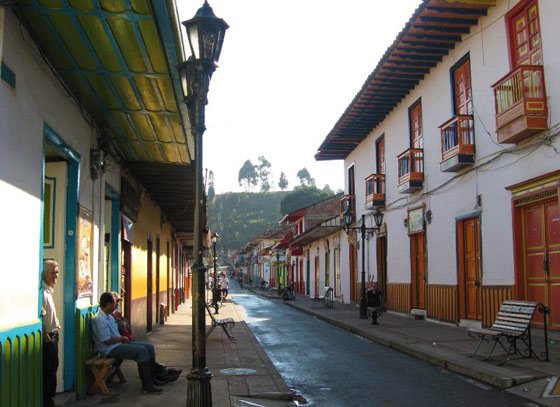 Calle Real - the main shopping and artisan street

Attractions
The town has a very colonial feel to it. The houses and buildings are whitewashed, but with the doors, balconies, and window shutters painted in bright colours. 
Plaza Bolivar
The town's main square is called, not particularly originally, Plaza Bolivar. The pretty church here is called Nuestra Señora del Carmen.
Most amenities can be found around the plaza including an ATM and supermarket - handing for buying provisions for treks.
The plaza can get quite busy at weekends, and especially so on national holidays. I went there during Semana Santa (Holy Week) once and you could barely move for people!
Calle Real
Calle Real is Salento's main street. It connects Plaza Bolivar with Alto de la Cruz, the lookout point.
This is the place to come for your souvenirs and gifts. It's a great place to pick up local handicrafts and prices are reasonable.
Many of the best restaurants and bars can also be found along Calle Real. Despite the increasing number of tourists, the bars thankfully still retain a distinctly 'small-town Colombia' feel.
I remember walking down Calle Real and seeing the back end of a horse poking out of a bar. It had been tied up while the owner played a few games of pool!
Alto de la Cruz
At the end of Calle Real are some 200 steps leading up to a lookout point called Alto de la Cruz.
As the name 'Cruz' suggests, there is a large cross atop the hill. From the lookout point you have a great view back over the town, and on the other side, you can see down into the valley below.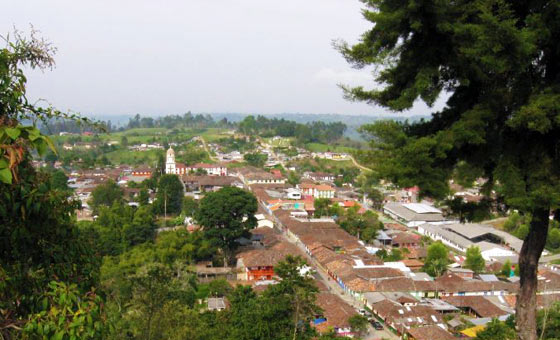 View of Salento from Alto de la Cruz lookout point

Transport
To Valle de Cocora
Jeeps, known as 'Willies', leave for the Cocora Valley from Plaza Bolivar. They leave in groups with the earliest departing at around 7:30am.
It's best to get to Plaza Bolivar a little early to ensure you get a spot of the jeep, although they'll always try and squeeze you on somehow!
Check out this comprehensive guide to Salento Treks.
To Armenia and Pereira
Buses leave Plaza Bolivar for Armenia (30 mins, 4,000 pesos) every half hour or so.
Buses to Pereira (90 mins, 6,000 pesos) are slightly less frequent.
To get to Bogota, Medellin or Cali you'll need to change buses in one of these two cities - Armenia is the best option for Bogota and Cali. Pereira may be a better option for Medellin and the Caribbean coast, depending how long you have to wait for a Pereira bus.
Read my guides to Armenia, gateway to the coffee region, and Pereira, the largest city in the coffee region.

Selected Hotels in Salento
The best luxury hotel here is Hotel Real. The hotel has a lovely covered patio bordered by the rooms and balconies, perfect for relaxing in after a day's walking. The rooms here are comfortable and the traditional high wooden ceilings make them feel very spacious.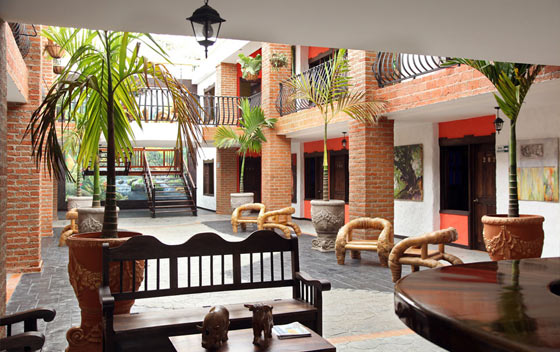 Indoor courtyard area in Hotel Real
My favourite way to stay in Salento is on a coffee farm (known as 'fincas'). The owners of these fincas are usually incredibly friendly and are happy to take you on a tour of the coffee growing process. And of course, the coffee they serve up is first class!
The best coffee finca is Finca el Ocaso, a 20 minute ride from Salento. The hotel and the plantation are both terrific, and the owners are very welcoming. Highly recommended.
The Plantation House is a fantastic choice for backpackers on a budget. The hostel lies on the edge of town with glorious views over the valley below. It has a cosy feel, big enough in terms of facilities and bed, but still small enough to give the feeling of staying in a house, rather than a full-on backpacker hostel.
You'll have at your disposal a huge range of info on the region and the friendly owners can help you to arrange tours.
A second plantation House is now open opposite the first. Both are highly recommended.
To find the hostel get off the bus at the firestation (home to an old-fashioned English fire engine). With your back to the firestation walk about 100m up the road/track to your right where you'll find both Plantation Houses on either side of the track.

Food
This region is famous for its trout, usually served with large 'patacones' (a kind of pancake made from mashed plantain).
La Mojiteria is a great restaurant with a mider ranging menu than most other places in town.
Rincon de Lucy is a good cheap option where you can try fresh trout with garlic on top of crispy patacon.
Coffee Tours
An absolute must for coffee lovers is a tour of a working coffee farm. On a typical tour you will be taken around the coffee plantation and shown the various steps of the process; from growing and collecting the coffee beans all the way to tips on how to make the perfect cup of coffee.
You'll also be able to sample plenty of the world's best coffee right at its source!
Recommended Coffee Tours
One of the top places to do a coffee tour is El Ocaso. As part of the tour they let you grind and make your own coffee! The owners also talk about how they market and sell the coffee.
It's a fascinating experience from start to finish. And at 8,000 pesos the tour's a bargain. It takes a little over an hour - more if you want to hang around and relax after the tour.
Also try the Don Elias coffee tour. I haven't personally tried this one, but I've heard great reviews of it.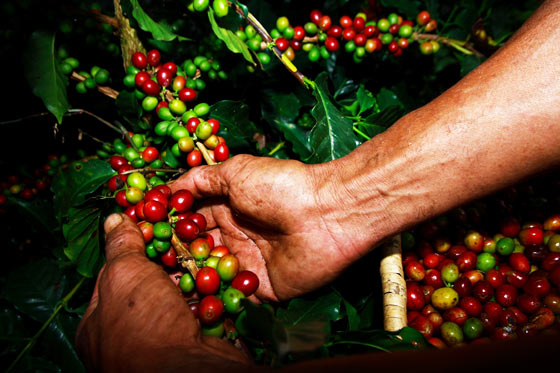 Collecting coffee beans on a Finca Tour
Return from Salento to Homepage