Villa de Leyva
Population 14,000, Boyaca Department
---
Nestled in the hills of rural Boyaca, Villa de Leyva is one of Colombia's treasures.
The vast majority of this small town consists of cobbled streets and plazas lined by quaint white colonial buildings. The town backs on to steep hills giving it a lovely isolated feel.
The climate is fresh, sometimes a little hot in the early afternoon sun and a bit chilly at night, so be sure to bring warm clothes for evening strolls.
There are also some interesting spots in the countryside to be explored. The town and surrounding area is still relatively untouched by tourists at most times due to its distance from large urban centres.

Attractions
The heart of the Villa de Leyva is the huge Plaza Mayor (the largest plaza in Colombia).
On the south-east of the plaza is the Iglesia Parroquial. The other buildings bordering the plaza include hotels, restaurants, bars and a couple of small banks with cash machines.
From the plaza simply walk off in any direction and allow yourself to be enchanted by the historic, charming feel of the town and its frienly people. As you pass along the quiet, cobbled streets keep an eye out for entrances to small courtyards with cafes and handicraft shops.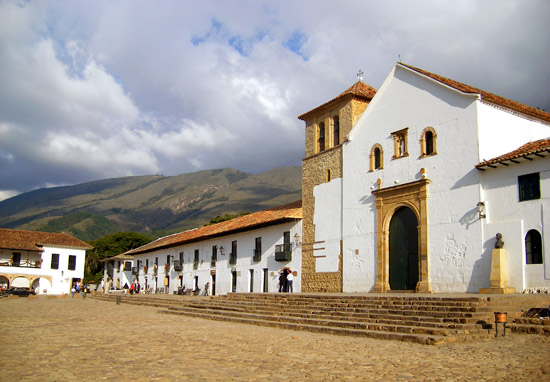 Plaza Major, Colombia's biggest plaza 
Another of the town's churches is the Iglesia del Carmen (photo, above) a block north-east of Plaza Mayor. It has a small park in front it. Continue one block further and then walk a block to the right to reach Parque Ricaurte with La Iglesia de San Agustin just behind it.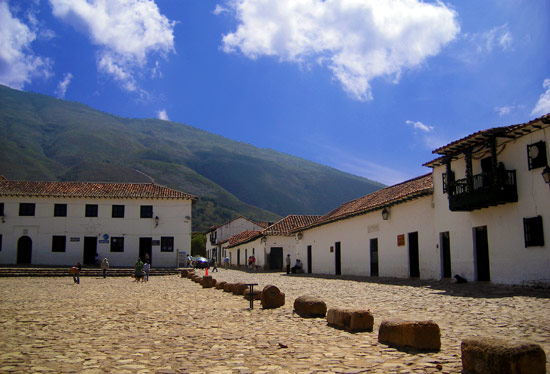 A beautiful mid morning in Plaza Mayor 
Walking distance from Villa de Leyva
To the north-west of Villa de Leyva lies a small desertous area. About 3km along the main road leading to Santa Sofia on the left are a series of small lakes known as Pozos Azules of a striking sky blue colour.
A couple more kms down the main road brings you to El Fosil (a museum dedicated to a dinosaur fossil) and a couple more to El Infiernito, an archaelogical site.
All of these places can easily be visited on foot in a few hours, but bikes and horses can also be rented in the town.
This area is quite exposed to the elements so be sure to slap on some sun cream if you're heading out in the middle of the day as the sun can be strong and catch you unawares.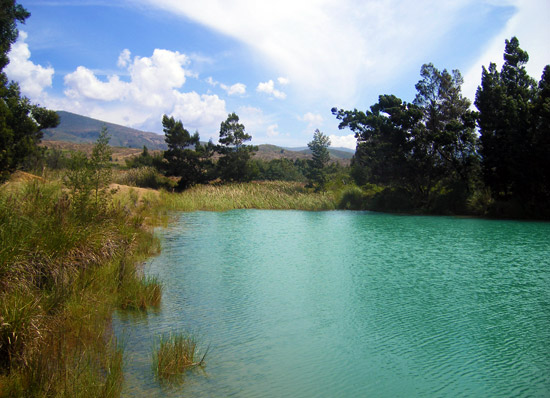 One of several small sky blue lakes just outside Villa de Leyva
Santuario de fauna y flora Iguaque
This beautiful national park is located about an hour out of town and covers some 67 square kilometers. The park's ecosystem is predominantly páramo, but also contains cloud forest and a lake called Laguna de Iguaque.
This park seems to be quite unknown to most tourists, which always mystifies me as the scenery is so pretty.

Hotels
There are some delightful hotels in Villa de Leyva, most of which are situated in attractive colonial buildings with large coutyards. A selection of the best:
I stayed at the wonderful Hotel Antonio Nariño recently with my family and we all were very impressed! The hotel is built a beautiful colonial courtyard. Some of the rooms have spa baths and fireplaces for those cool evenings. Highly recommended!
I've also been impressed by Hotel Boutique Villa Roma. If the spacious rooms with fireplaces don't win you over, the outdoor heated pool might! It's a pleasant 5 minute walk from Plaza Major.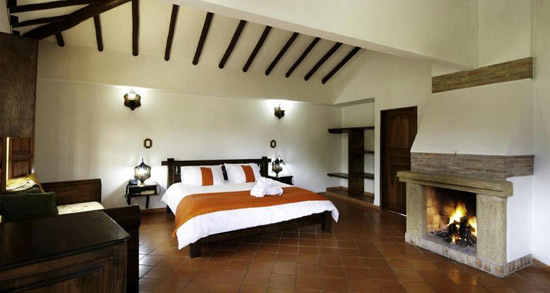 An example of the cosy, yet spacious rooms in Hotel Boutique Villa Roma
If you're looking for a budget hostel, try Casa Viena, a small family-run guesthouse on the edge of town.

Transport
The bus station is about 3 blocks from Plaza Mayor. To get to or from Bogota there two options.
You can take a direct bus - the trip takes about 4 hours (although traffic jams in Bogota mean it can often take longer).
Another option is to go via the Boyaca capital of Tunja. The mini-buses to/from Tunja leave more frequently and from there you can easily get a bus to the capital Bogota. This route takes slightly longer than the direct route, but allows for more flexibility in terms of when you want to travel.
Festivals
El Dia de las Velitas is celebrated all over Colombia, but there is probably no better place to celebrate it than in Villa de Leyva. In fact the celebration here is even known by a different name: El Festival de Luces (Festival of Lights).
It is celebrated on the nights of the 7th and 8th December each year. During these two nights displays of lights and candles adorn the streets and balconies of this quaint town and spectacular fireworks pierce the darkness of the cool night sky.
Locals and tourists alike pour out onto the streets to celebrate this festival and the result is a wonderful family atmosphere.
Be warned though that this is the busiest time of the year for the town and hotels tend to fill up quickly, so try to book well in advance.
Other towns near Villa de Leyva
Villa de Leyva is definitely the 'must see' town in Boyaca, but there are other towns nearby that are worth a visit if you have time.
The capital of Boyaca is Tunja. It's a bout 3 hours from Bogota, and most travellers tend to simply pass through it on their way to Villa de Leyva. There's not a great deal to do here, but it has a large central plaza that's worth a look.
If you only have the chance to visit one other town in Boyaca, I'd recommend Raquira, full of colorfully painted houses and famous for its pottery.
To the north of the department, Paipa is famed for its hot springs and is a popular weekend getaway for Bogotanos. 
Also nearby is Chiquinquira, known for its impressive cathedral of considerable religious importance.
You can also read my summary guide to the department of Boyaca.
Return from Villa de Leyva to Homepage