Guide to Boyaca
---
Boyaca is one of Colombia's highest departments with much of the region at an altitude of over 2000m.
Lying to the north-east of Bogota the department is formed by a variety of spectacular landscapes from rolling green hills to rugged paramo and towering mountains dotted thoughout by quaint picturesque towns.
The capital of the department is the city of Tunja. With a population of around 180,000 it is one of the smaller capitals of the Andean region of Colombia and in many ways feels more like a large town than a small city.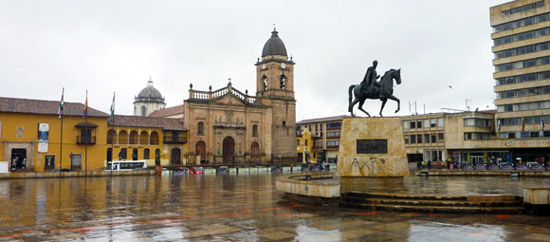 Plaza Bolivar, Tunja
The most famous of Boyaca's towns is without doubt the stunning Villa de Leyva. This wonderfully preserved colonial town is a maze of narrow cobbled streets lined with whitewashed buildings and cozy little plazas. An absolute must during any visit to this region.
The most colourful of this department's towns is unquestionably Raquira. This small sleepy town is the handicraft capital of the region in particular famous for its ceramic products. A great place to pick up a few souvenirs.
Chiquinquira is an important town situted to the west of Villa de Leyva. The town has a religious significance and is visited by many pilgrims who come to see the Basílica de la Virgen de Chiquinquirá church which contains an important painting of the Virgin Mary.
To the north-east of Tunja lies the town of Paipa. The town itself is unspectacular, but is worth visiting for the numerous thermal springs in the area as well as the historically significant Pantano de Vargas.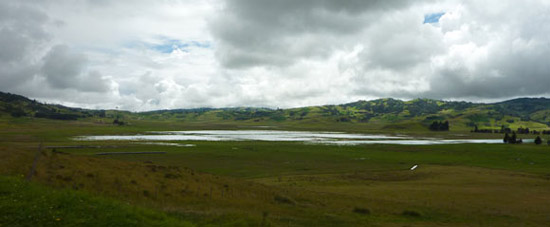 Expansive landscape, typical of the region
Travelling around the region is generally not too difficult and in fact allows you to savour some of the attractive landscapes of the department.
There is a main road from Bogota to Villa de Leyva and on to Paipa. However, much of the rest of the department is connected by minor roads.
As the region is quite mountainous in parts, it is subject to floods and landslides during the wet season which can significantly complicate travel.
Return from Boyaca to Homepage