Colombian Music
Guide to the many rhythms of Colombia
---
Whether it's Shakira's latest chart-topping single, a trio of Vallenato singers on a beach, or the majestic sound of the National Anthem of Colombia, Colombian music plays an integral role in Colombian life.
Colombia has an enormous diversity of sounds and rhythms most of which have a strong connection to a particular area of the country.
The music of Colombia can be divided into 4 main regions; the Caribbean (or Atlantic) coast, the Pacific Coast, the Andes, and the Plains.
---
Caribbean Coast
By far the most popular rhythm on the Caribbean coast of Colombia is Vallenato, a class of music in which the accordion plays a central role.
Vallenato was made famous in the mid-1940s most notably by Rafael Escalona. It was later made more mainstream by Diomedes Diaz and more recently by Carlos Vives.
Vallenato can now be heard all over Colombia, but it originates from the north of the department of Cesar, in and around its capital city of Valledupar. The famous Vallenato Festival, held annually in April, takes place in Valledupar.
Group of Vallenato singers
Another of the Caribbean coast's traditional styles of music is Cumbia. Cumbia uses principally percussion instruments and a setting known as Chirimia.
Among the most famous Cumbia songs are "Colombia; Tierra Querida", "La Poyera Colora" and "La Piragua".
Champeta is one of the more modern rhythms on the Caribbean coast. It was founded in Cartagena and has its origins in reggae and ragga. It is a very sensual music and the style of dance which accompanies it is extremely sexy.
The name 'Champeta' comes from the name of a large curved knife, similar to a machete, that is commonly used in the region.
People who listen to Champeta are known as 'Champetudos', although this same word is often used as an insult on the coast to refer to people who act like hooligans, or simply to people of lower class.
Porro is a type of music similar to Cumbia. "La Llorona" and "El Porro Sabanero" are two of the most well-known songs.
Other rhythms which can be found on the Caribbean coast include Bullerengue, Chande, Puya and Merecumbe (a blend of Merengue and Cumbia).
---
Pacific Coast
The Pacific coast of Colombia has its own distinct sound. Mapale is the most popular of the rhythms found in this region of Colombia. Mapale was developed on an African dance brought over by the slaves. The most famous Mapale song is "Prende la Vela".
Mapale musicians
Another popular style of Colombian music found on the Pacific coast is Currulao. It is a fast paced folkloric rythym that is also strongly linked to Afro-Colombian culture.
The most famous Currulao song is "Mi Buenaventura".
---
Los Andes
The central Andean region of Colombia is also home to numerous varieties of music of Colombia.
Bambuco is a slow, melancholic style of music which originates from the Muisca Indians. "El Bojotico" is a well-known Bambuco song.
Pasillo is a musical style that is a type of Waltz. Jorge Villamil is arguably the most famous Pasillo composer and his 1962 song "Espumas" is particularly recognised.
Other popular styles of Colombian music in the Andes include Criolla, Guasca, and Guabina (particularly popular in the departments of Cundinamarca, Boyaca and Santander).
---
Los Llanos
Los Llanos (the Eastern Plains of Colombia) is home to a wonderful style of music called Joropo.
Joropo (often referred to as Musica Llanera) is another rhythm which resembles the Waltz. The main instruments are the harp and the Cuatro (a small guitar-like instrument with 4 strings).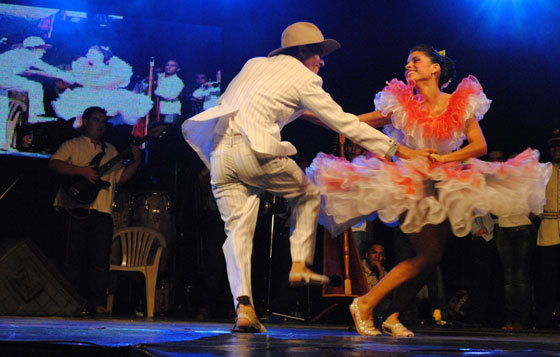 Joropo dance
Joropo is fast and is incredibly difficult to dance to requiring quick movement of the feet and Waltz turns.
Alfurno Briceno's "Ay mi Llanura" is the most famous Joropo song and has become an unofficial anthem for the Los Llanos region.
Return from Colombian Music to Homepage