Hotels in Bogota
As the Colombian capital, there is a huge range of hotels in Bogota.
Most of the upmarket hotels are located in the north of the city, with cheaper options in the central zone of the city.
Although the central zone is a little rougher and unsafe than the north, it is often favoured by tourists since more of the city's historical and cultural attractions are to be found there.
The advantage of staying in the north is that you are closer to the fancy restaurants, bars and shopping centers.
Here are some of my personal recommendations for hotels in Bogota:
Selected Hotels
JW Marriott Hotel
Arguably the best hotel in Bogota is JW Marriott Hotel. It is situated in the financial zone of the city, about a 10-minute walk to the 'Zona Rosa', Bogota's main dining and nightlife area.
This luxury hotel includes two impressive restaurants, a bar, gym and spa.
BH Bicentenario
For a luxury hotel near historic La Candelaria try BH Bicentenario. This is another of the best luxury hotels in Bogota and includes an on-site restaurant and a spa and fitness centre.
The hotel is within walking distance of many of Bogota's tourist attractions and is close to the Transmilenio bus service making getting to other parts of the city easy.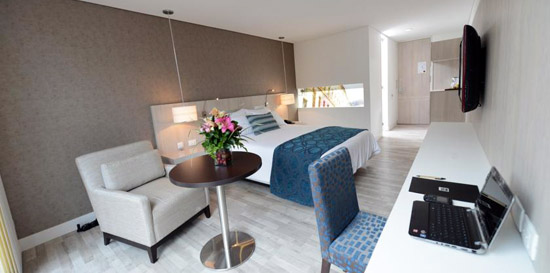 Hotel BH Bicentenario
Selected Self-Catering Apartments
93 Luxury Suites & Residences
For a luxurious stay just a minute walk from Parque de la 93, there's nowhere better than 93 Luxury Suites & Residences.
This really is quite an amazing place to stay - it has a fantastic restaurant, small cinema, game room, gym, and a terrific roof-top terrace with panoramic views over the city. Free on-site parking is also offered.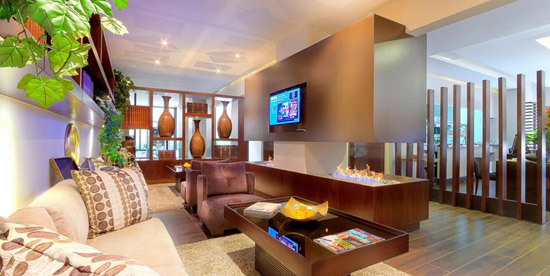 93 Luxury Suites & Residences offers luxury self-catering apartments
Jazz Apartments
Jazz Apartments is one of Bogota's premier self-catering accommodations, located right in the heart of the city's financial zone.
The apartments overlook one of Bogota's most attractive parks (Virrey). It is just a few minutes walk from shopping centres, bars and restaurants.
Jazz Apartments includes an impressive spa and free on-site parking. There is also a decent restaurant and bar.
Selected Hostels
Sue Candelaria
These days the best value hostel in the historic La Candelaria district is Sue Candelaria.
It's a comfortable hostel with free internet and wi-fi, hot showers, courtyard with heaters, and a ping pong table. Includes a couple of TVs with satellite and a decent DVD collection.
Offers Spanish and salsa classes. The hostel also offers a good range of daytime and nighttime activities for guests.
Los Andes Hostel
If you'd rather stay near the entertainment district I'd recommend Los Andes Hostel, just a couple of minutes walk from the 'Zona Rosa'.
This is a cosy hostel in one of the safest areas of the city. The price includes breakfastand a nice common area to hang out with fellow travellers.
Casa Platypus
If sharing a dorm room with snoring backpackers isn't what you're looking for, yet you're still on a tight budget, the best option is Casa Platypus.
It's located in the heart of La Candelaria and close to a large number of tourist attractions.
Casa Platypus is a simple, but comfortable hotel, with the atmosphere and facilities of a hostel. There is a shared kitchen and other common areas including a roof-top terrace where travellers can meet.
Casa Platypus offers travellers a more comfortable alternative to hostel dorm rooms
Want more information about what to see and do in the Colombian capital? Read my main guide to Bogota. 
Return from Hotels in Bogota to Homepage