Golf in Colombia
---
As a keen golfer myself, one of the first things I did upon moving to Colombia was to try to find a public golf course. It proved to be quite a hard task.
Golf in Colombia has long been the preserve of the wealthy elite. Many Colombian golf courses are part of exclusive country clubs whose membership fees are often double what you might pay somewhere like the USA or UK.
 Colombian PGA golfer Camilo Villegas
However, if you're looking to play a few rounds of golf here as a tourist then things become a little easier. There has, in recent years been a push by the Colombian Golf Federation and Tourist Board to make the courses more accessible to foreign tourists through packages offered by tour agencies. This, of course, has the advantage of making Colombia a more attractive place in which to strike business deals!
For those either living in Colombia or here for an extended period of time, the options for playing golf in Colombia are either to pay the pricey membership fees or to play on one of the small number of public golf courses.
Golf Courses in Colombia
With the enormous diversity of landscapes in Colombia, many of the country's golf courses are found in glorious settings; along the coast of the Caribbean, flanked by steep Andean peaks, or surrounded by coffee plantations.
Here are some selected Colombian golf courses divided by region:
Bogota Golf Courses
Country Club de Bogota (Par 72) is one of the most exclusive golf courses in Bogota. It is situated within the city limits not far from Unicentro Shopping Centre and is also close to many of Bogota's best hotels.
Another of the city's best courses is Club El Rincon De Cajica (Par 72), located just outside the small town of Cajica, about 15 miles north of Bogota.

For something a bit different try La Cima (Par 70), situated near the town of La Calera up into the mountains which flank Bogota. Although slightly less conditioned than the above courses, La Cima offers you the feeling of playing a round of golf on top on the world! As such it can be quite a challenging course - even a slightly misjudged approach shot could see your ball disappearing off down the side of a mountain. Be warned too that the course is located at an altitude of around 3000 metres, so take your time strolling down the fairway!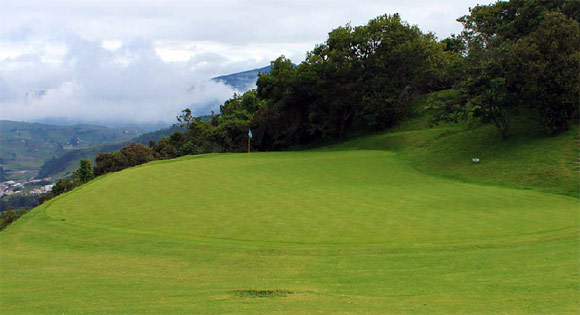 The green on the Par 4 1st hole at La Cima Golf Club near Bogota
Public course:
There's also a public pitch and putt golf course in Bogota called Campo de Practica Golf Publico Salitre. It's located in the Rincon del Salitre neighbourhood, not far from Simon Bolivar park.
Medellin Golf Courses
The region's year-round spring climate makes it a great place to play golf in Colombia. There are two golf clubs in Medellin, each with two courses; one in the city of Medellin and one outside the city near the international airport.
Club Campestre Llano Grande is Medellin's most exclusive golf club. It is home to PGA golfer and Medellin local Camilo Villegas who has helped to inspire many youngsters to take up golf in Colombia.
The club's main golf course is located in Llano Grande (Par 72), close to the Jose Maria Cordova airport.
Club Campestre's Medellin Golf Course (Par 70) is really a 9-hole course, but with double tees to allow it to present itself as an 18-hole course.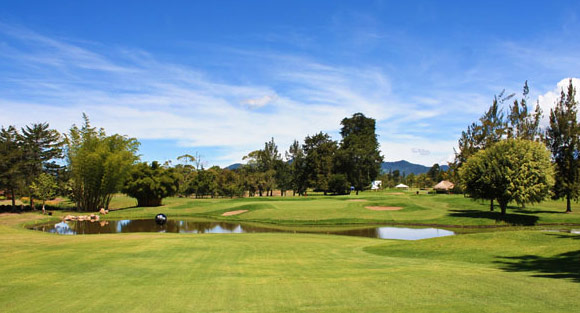 View towards a green on the exclusive Club Campestre Llano Grande near Medellin
Medellin's other golf club is El Rodeo (Par 72). It's main course is situated slap bang next to the city airport Olaya Herrera. One of the real treats of playing this course is seeing the planes coming in to land just a couple of hundred feet above your head. In fact on the tee of the Par 3 2nd hole you almost worry about clipping a plane wing!
El Rodeo's other course is Macarena (Par 72) and can be found near the town of Rio Negro, close to Jose Maria Cordova airport.
Public course: 
There's a decent pitch and putt golf course called Rio Golf, close to Medellin's international airport at Rio Negro. The friendly owner rents all equipment including balls and provides you with a charming hand-drawn map of the course. Some of the fairways criss-cross each other, but the course is usually very quiet so this is unlikely to be a problem.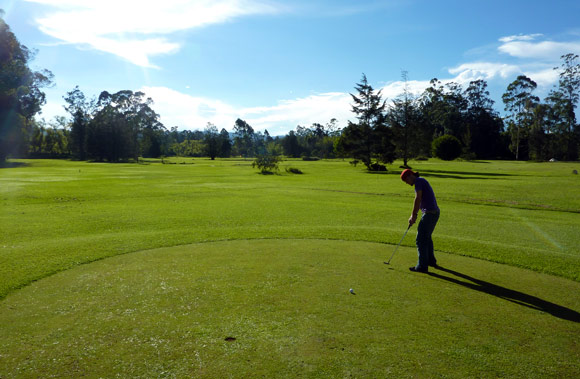 A promising American amateur strokes the ball towards the hole on Medellin's Rio Golf course
Caribbean Coast
There can be few better places to play golf in Colombia than by the Caribbean Sea! The best of the coastal courses is that of Country Club de Barranquilla (Par 72). It's an attractive course that provides view of the Caribbean Sea. The light sea breezes offer a slight relief from the punishingly high temperatures.
Club Campestre Cartagena (Par 72) also has a decent 18-hole course and has the advantage of being close to the beautiful city of Cartagena, with its enchanting colonial quarter, sandy beaches and fancy bars and restaurants.
Other Selected Golf Courses in Colombia
Easily the best golf course in the Cali region is Club Campestre Cali (Par 71), a well-designed and well-maintained 18-hole course in the south of the city of Cali.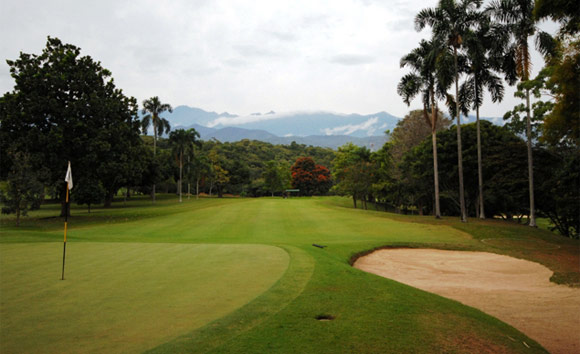 The greens and fairways are well-conditioned at Club Campestre Cali
Club Farallones (Par 73) is another good course in Cali. It is located on the southern fringes of the city about 3 miles from Club Campestre Cali.
In the country's coffee region, I would recommend Asociacion Club Campestre de Armenia (Par 71), a scenic course flanked by coffee plantations.
In Bucaramanga the best and most exclusive golf course is at Club Campestre de Bucaramanga (Par 72). The course is well-conditioned and set in picturesque surroundings.
Return from Golf in Colombia to Homepage