Colombia Under 20 World Cup
Teams, Groups, Host Cities
---
The 2011 Colombia Under 20 World Cup proved a huge success. It was the first FIFA World Cup to be staged in Colombia.
News and Results from the FIFA Under 20 World Cup.
The Under 20 World Cup is a tournament in which South American and African countries typically excel. Unfortunately the competition is not taken as seriously by the big European nations as it tends to overlap with the beginning of the new domestic season and comes just a month after the European Under 20 championships (which in 2011 were held in Denmark.)
See the official video for the 2011 FIFA Under 20 World Cup in Colombia:
 24 teams participated in the Colombia Under 20 World Cup with all six continents represented. Teams were divided into six groups with each team playing each other once:
Group A

Colombia
France
Mali
South Korea


Group B

Portugal
Uruguay
Cameroun
New Zealand


Group C

Australia
Ecuador
Costa Rica
Spain

Group D

Croatia
Saudi Arabia
Nigeria
Guatemala


Group E

Brazil
Egypt
Austria
Panama


Group F

Argentina
Mexico
England
North Korea

Games were played at eight stadiums in eight cities throughout the country each of which had been renovated for the tournament.
The final was played in the Capital city of Bogota. The city also hosted all three of Colombia's Group A matches.
The Mountain capital Medellin staged one of the semi-finals as well as being the base for England and Argentina.
Colombia's salsa capital Cali was the base for Uruguay and Portugal, as well as staging a quarter final.
The country's coffee region provided three more venues. Spain were based in the city of Manizales, Nigeria and Croatia in Armenia, and the city of Pereira staged a quarter final and semi final match.
The final two venues were situated on the Caribbean coast. The stunning colonial city of Cartagena hosted a quarter final match, and the port city of Barranquilla provided a base for Brazil in the group stages.
All 8 stadiums which were used during the Colombia Under 20 World Cup had been renovated ready for the tournament. Some, such as the Estadio Atanasio Giradot (Medellin) and Estadio Palogrande (Manizales) had undergone only minor works, whereas some stadiums had undergone complete makeovers such as the Estadio Hernan Ramirez Villegas (Pereira) and the Estadio Jaime Moron (Cartagena).
See my complete guide to Colombian Football Stadiums.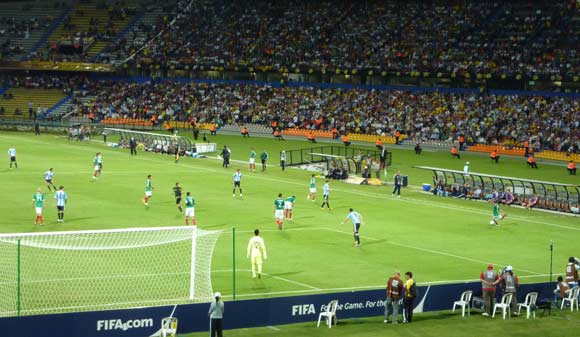 Argentina and Mexico in action on the first day of the Under 20 World Cup
Read my main guide to football in Colombia including a look at the history of the beautiful game in this country.
Return from Colombia Under 20 World Cup to Homepage