Transportation in Bogota
Travelling in Bogota can sometimes be very tedious. At peak hours the transportation systems in Bogota often struggle to cope with the hundreds of thousands of commuters.
But transportation in Bogota has improved in recent years in particular with the introduction of the innovative Transmilenio bus system.
Travelling around Bogota
Transmilenio
Bogota's principal public transportation system is known as the Transmilenio and is a cross between a bus and tram system.
The double-length buses run along the majority of the city's main arteries including to the airport with frequent stops every minute or so.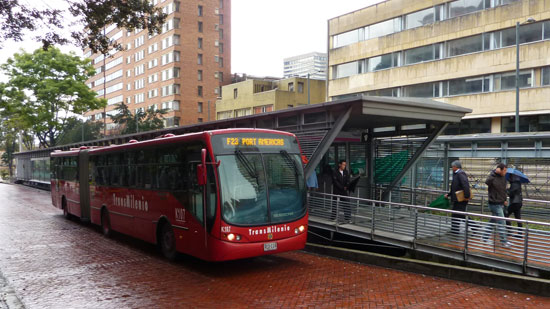 A station on Bogota's Transmilenio bus service 
Figuring out the system can take quite a while so plan a bit of extra time for your journey if you're using it for the first time. And don't be surprised if you end up on the wrong bus from time time! (Or maybe that's just me!)
This is an up-to-date map of the Transmilenio routes and stations: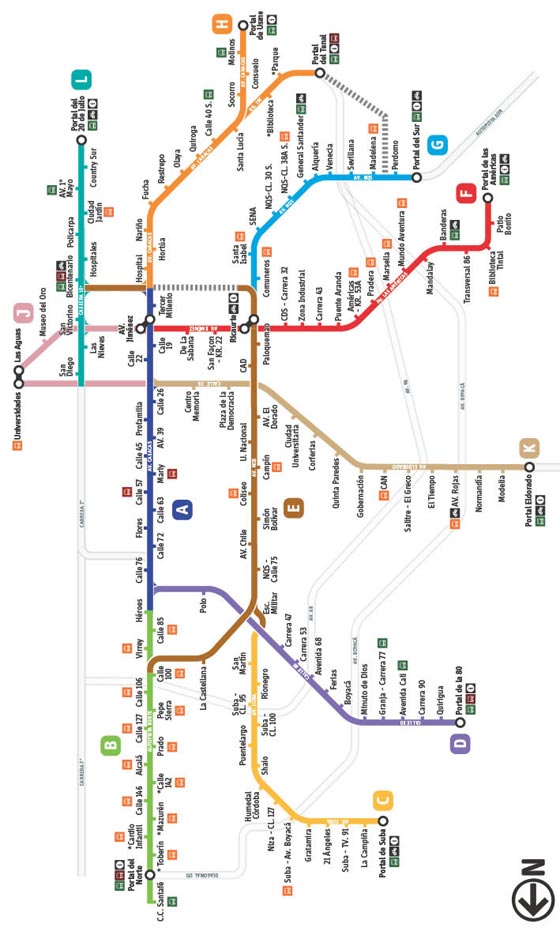 Buses and Taxis
Normal buses also run to all parts of the city. The routes are sometimes a bit confusing and take a while to get used to, but don't be afraid to have a quick word with the driver to make sure he's heading in your direction.
All taxis are fitted with taxi meters. The final number displayed on the small screen is found on a chart, usually positioned somewhere in the front of the taxi, and corresponds to the fare.
Travelling To and From Bogota
Buses
The main bus terminal is located in the east at Diagonal 23 No. 69-60 not too far from the city centre.
Buses leave to all parts of Colombia. Medellin 9 hours. Cali 12 hours. Bucaramanga 9 hours, Cartagena 20 hours, Santa Marta 16 hours (all times approx.)
For more information on what to see and do, check out the main Bogota page. 
Return from transportation in Bogota to Homepage