Santa Marta Transport




Taxis, Buses, Airplanes
---
Being a relatively small city, the Santa Marta transport system rarely suffers from major problems with traffic jams or road works. As such, travelling around the city is usually a fairly stress-free endeavour.
Mini-buses cover a large part of the city of Santa Marta, although many tourists opt for taxis since they are pretty cheap.
Taxis are not metered so make sure you agree the price before you get in. In any case, it's unlikely you'd be overcharged by more than a dollar. 
The main bus terminal in Santa Marta is about a 10 minute taxi ride from the historic centre. Buses leave to Barranquilla (2 hours), Cartagena (4 hours), Bogota (16 hours), Bucaramanga (9 hours), Medellin (17 hours).
Buses also run to the small town of Maicao (4 hours) on the Venezuelan border. In Maicao you can take a minibus or, more commonly, a shared taxi to Maracaibo in Venezuela.
A better option, however, is to catch a direct bus from Santa Marta that runs directly to Maracaibo. Expreso Brasilia is probably the best company to use for these direct journeys.
Santa Marta's Simon Bolivar International airport lies on the coast to the south of the city. You can catch a bus marked 'El Rodadero Aeropuerto' from Carrera 1 (about 45 mins). Alternatively take a taxi (about 20 mins).
The airport is pretty old and run-down compared to others in Colombia. In fact, it feels more like a bus terminal than an airport.
The runway is located right on the shore, and I always enjoy landing here as the plane comes flying in low over the ocean to touch down and then stop before reaching the water at the other end.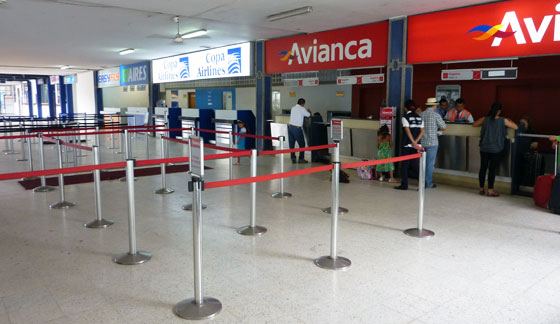 The small terminal at Simon Bolivar International Airport
There are flights to all main destinations in the country. Flights to and from Santa Marta for peak holiday periods sell out very quickly so book at least a couple of months in advance.
Flying internationally will almost certainly mean transfering somewhere else in Colombia e.g. Bogota or Medellin.
Return from Santa Marta Transport to Homepage