Restaurants in Santa Marta
Best dining options, Typical food
---
There are now some terrific restaurants in Santa Marta. As with other coastal towns and cities the staple in Santa Marta is, of course, seafood.
Some good dining in Santa Marta can be found along Carrera 1. They all offer varied menus which include several different types of fried or grilled fish usually accompanied with coconut rice (delicious!), salad and patacones (plantain which is mashed into a sort of small pancake and then fried).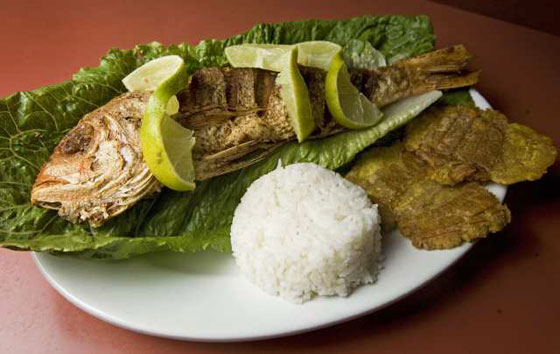 Most of the seafront restaurants are mid-range price-wise. If you're looking for something cheaper then simply stroll into the centre of the city where you'll find meals for $7000 pesos or so.
For high quality restaurants try the following:
Lamart
This is my favourite restaurant in Santa Marta and I make sure I visit at least once every time I'm in the city. The building is beautiful and the atmosphere relaxed so you're at ease before the food even arrives.
Lamart has a creative, artistic menu and the food is top quality. The service is always friendly and efficient too. It's located along a narrow pedestrian street so you're thankfully away from the noise of traffic. I highly recommend this place.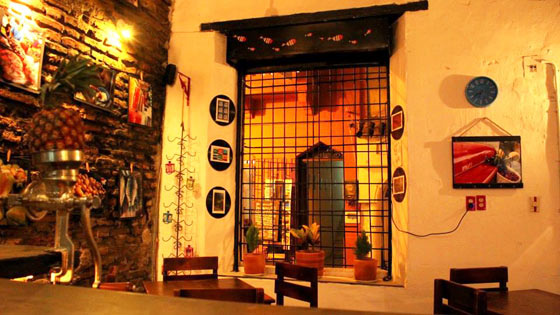 Lamart - Great location, Beautiful building, delicious cuisine
Donde Chucho
A great place to sample Colombian food typical of the coast. It's located on a corner of Parque de Los Novios which has become a popular entertainment zone. You can choose between an outside table for people watching (it's pedestrianised so there's no traffic) or sit inside and enjoy the air-conditioning.
The menu is packed with all manner of seafood dishes including delicious ceviche. A little pricey, but worth it.
Lulo
For a vegetarian option try Lulo. This relaxing restuarant serves up some wonderfully creative vegetarian dishes. The offer meat-free versions of traditional Colombian dishes, for example, ceviche with fruit and vegetables instead of prawns. The juices are also first rate. Highly recommended for all, not just vegetarians!
Isola Sarda
If you've had your fill of seafood, I can recommend this great Italian restaurant. The food is authentically prepared and the pizzas in particular are amazing. It's also not quite as costly as some other places of similar quality. 
Check out my main guide to Santa Marta for more information and recommendations on things to do, places to stay, and much more.
Return from Restaurants in Santa Marta to Homepage