Giron
Population 50,000, Santander Department
---
The town of Giron in Santander is situated less than an hour from Bucaramanga. It is a delightful colonial town with cobbled streets, whitewashed buildings and leafy plazas.
Although not quite as attractive or quaint as, say, Barichara or Villa de Leyva it is still retains a relaxed atmosphere and a feeling of stepping back in time.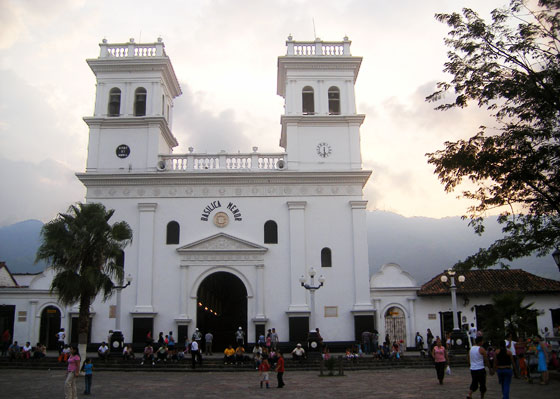 Catedral del Señor de los Milagros
Unlike Barichara and Villa de Leyva only part of Giron is colonial. The town has gradually expanded and outside the colonial sector much of it is comprised of modern shop-lined town streets.
As with other colonial towns the best recommendation as to what to do in the town is simply to stroll around its enchanting streets soaking up its charming atmosphere.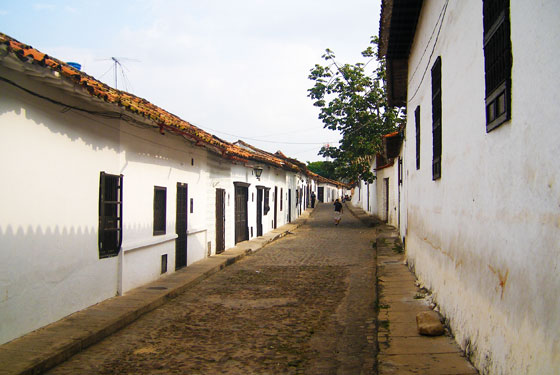 A typical street lined by whitewashed colonial houses

Attractions
The colonial sector of the town is formed by 46 blocks. The most obvious place to begin your stroll through the sector is the Parque Principal upon which sits the Catedral del Señor de los Milagros (see photo, top of page) and the town hall, opposite the cathedral.
Two blocks behind the cathedral is the quiet little Parque Peralta around which the town was first settled. Two blocks south from Parque Peralta is Plazuela de las Nieves and a small chapel called Capilla de las Nieves.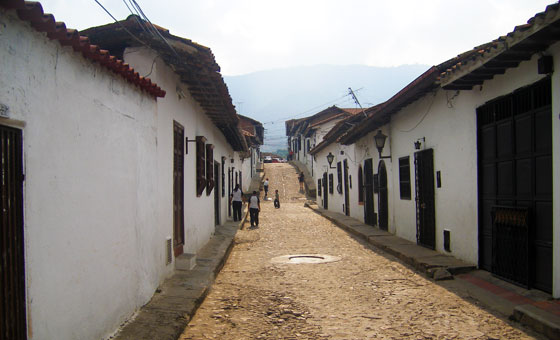 The colonial centre of the town is wonderful for strolling around
The town is skirted by the Rio de Oro (River of Gold). In 2005, after days of heavy rain, the river burst its banks and flooded much of the town. Some of the lumps of concrete which were washed away during the floods are still visible in the muddy waters of the river.
At the point where the bridge spans the river you can find a large number of stalls selling handicrafts, typical sweets and other souvenirs.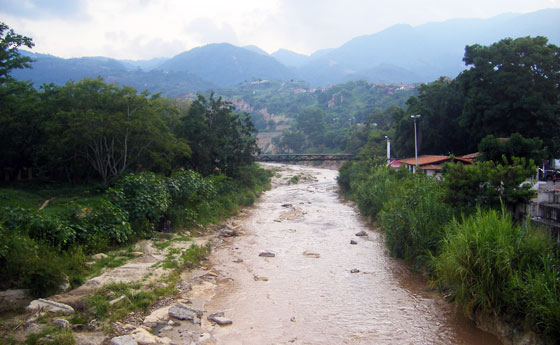 The 'River of Gold' runs along the edge of the town

Selected Hotels
My favourite luxury hotel here is Macaregua Boutique. Perfectly situated just a couple of blocks from Parque Principal, the Macaregua is a colonial building with good, comfortable rooms and facilities.
If you're looking for something cheaper and more backpacker-oriented, Giron Chillout is an excellent choice situated a block and a half from the main plaza. This pretty colonial builing has comfortable rooms which sleep between one and three people. Also included is a well-equiped kitchen, laundry, cable TV and wi-fi.

Transport
Getting to the town from the Santander capital Bucaramanga is fairly straightforward. Buses leave frequently from Bucaramanga on Carreras 15 and 33 and drop you near Parque Principal (and vice versa). The trip takes around 20 minutes.