Festivals in Bogota
There is a wide range of festivals in Bogota including the internationally famous Ibero-American theatre festival.
Ibero-American Theatre Festival
The Ibero-American theatre festival is held in Bogota every two years. It features dance, music, circus, puppertry, pantomime and theatre performances all over the city for 17 days.
Theatre companies from around the world perform at the festival in the city's various theatres and some workshops are also given.
The festival is held in March/April and includes Holy Week.
Visit the Ibero-American Theatre Festival's official site for more information.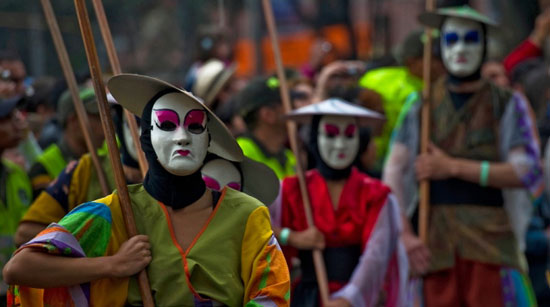 International Book Fair
This popular fair has been running since 1988 and is of huge importance to Colombia and Latin America as a whole.
Tens of thousands of visitors have the opportunity to read extracts from books and meet authors.
As well as presenting Colombian and international literature, each year a particular country is invited to the event to showcase of its own work.
It is held late April/early May each year at the Centro Internacional de Negocios y Exposiciones de Bogotá - Corferias in the central zone of the city.
Visit the official website for more information about the International Book Fair.
Jazz in the Park Festival
Every September Bogota celebrates Jazz music with concerts taking place on stages in various parks throughout the city, including Parque Simon Bolivar.
The emphasis of the festival is on promoting Colombian musicians, but there are also some international artists invited each year.
Rock al Parque
Rock al Parque is a large rock festival that takes place in October in Parque Simon Bolivar. It is one of the biggest in Latin America. 
Concerts in Bogota
In the last few years Bogota has become a popular stop on the tours of many of the world's most famous music artists. Some of the bigger acts to perform in the last few years include Metallica, Iron Maiden, and Coldplay.
There are many venues throughout the city, although the largest concerts tend to take place in Parque Simon Bolivar.
The best place to find news of upcoming concerts and to buy tickets is the tuboleta website.
For more information of the Colombian capital read my complete guide to Bogota. 
Return from Festivals in Bogota to Homepage