Cali Nightlife


Guide to bars and clubs in the Salsa capital of Colombia
---
The Cali nightlife is among the most lively in Colombia. Bars and discotecas are full of hot latin bodies being spun around to the tropical rhythms for which this city is famous.
The Southern city of Cali is internationally renound for it's salsa and it's easy to see why. Caleños are pretty much born dancing and their rhythm and passion for dancing is a source of great pride.
Cali's main nightlife strip is Avenida Sexta (Sixth Avenue). A myriad of bars and discotekas line both sides of this busy street.
Bar and club reps will try to lure you off the street and onto their dancefloors. Simply take a stroll along the avenue until you encounter something appealing (be it place or person!) and let the 'Salsa Capital of the World' sweep you into the early hours of the morning.
It's very common to ask girls to dance ("Quiere bailar?") and generally isn't seen as a sleazy 'come-on'. Girls will usually either except or politely decline (a far cry from the often brutal rejections that can occur in other parts of the world. Or perhaps that's just me!)
Las Brisas de la Sexta (Avenida 6N No. 15N-94), a large bar/club that plays a mixture of latin music, is a perenial favourite with locals.
Kukuramakara (Calle 28N No. 2-Bis-97) is a good choice for those looking for a bit of eye candy.
For an early evening drink try Reggae and Pop bar in Chipichape Shopping Mall, popular with ex-pats.
Or for something that attracts a younger crowd, try Tropical Cocktails, just off Avenida Sexta.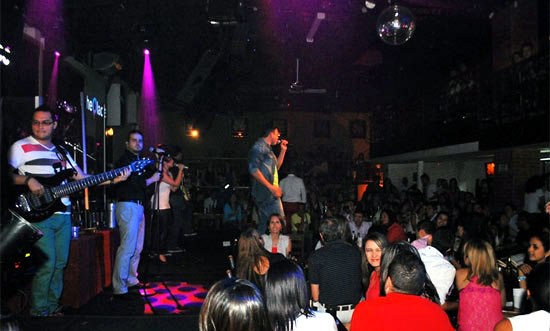 Kukaramakara - a popular venue for live music and dancing
If you're really into salsa head for the Juanchito district in the east of the city. Here the nightclubs, known as 'salsatecas', are full of the steps, spins and twirls of those who live to dance.
The most famous club in the Juanchito district is Changó Discoteca. But there are loads of other places around if you're looking for something a little smaller and more traditional.
Come and have a go or just sit back with a cool beverage and enjoy the amazing spectacle!
Return from Cali Nightlife to Homepage