Adventure Sports in San Gil
The huge number of adventure sports in San Gil makes it THE place to visit for adrenaline junkies of every description.
There are a ton of tour companies which offer packages catering to all kinds of adventure sports both in San Gil and the surrounding area. They offer trips including rafting, caving, rappelling, horse riding, kayaking, walking, paintball, quadbiking, cycling and paragliding.
A couple of the more reputable ones:
Aventura Total: Corner of Calle 7 & Carrera 11, Tel. (7) 7238888 website
Rios y Canoas: (At Parque El Gallineral), Tel. (7) 7247220 website
Colombia Rafting Expeditions: Carrera 10 No. 7-83, Tel. (7) 7245800 
Rafting
Of all the adventure sports in San Gil, the most popular is rafting.
You can raft on one of the three rivers; Rio Fonce, Rio Chicamocha, and Rio Suarez:
Rio Fonce is the most popular rafting river and is perfect for beginners (class 2-3). The standard rafting trip takes about one and half hours and ends at San Gil.
Rio Chicamocha is perfect for longer trips of up to 3 days with camping included. The river takes you through some dramatic scenery as it winds its way through the Chicamocha Canyon. A good option for more experienced rafters (class 2-4).
Rio Suarez is for the adrenaline junkies! The trip covers 20km of class 4-5 rapids. The scenery is lovely, but you probably won't notice as you're swept downstream! Experienced rafters only.
Rappelling
Rappelling is another popular adventure activity around San Gil. One of the most popular spots is near the town of Pinchote where you can rappel down a spectacular 80 metre waterfall.
Another possibility is at Juan Curi Waterfall (see above) where you can rappel down a 60m waterfall.
Caving
Caving trips can easily be done in a morning or afternoon. The three most popular caves (cuevas) are:
Cueva del Yeso (Plaster Cave) - an easily route in a dry cave.
Cueva Indio (Indian Cave) - a fun-filled cave which includes a zip line at the start and also some swimming.
Cueva de La Vaca (Cow Cave) - an extreme option with a lot of swimming through narrow sections.
Walking
There are a lot of trekking options around San Gil that any hostel or hotel can fill you in on. A highly recommended walk is to Barichara and then to Guane. (See the Barichara section for information on the Barichara to Guane leg known as the Camino Real).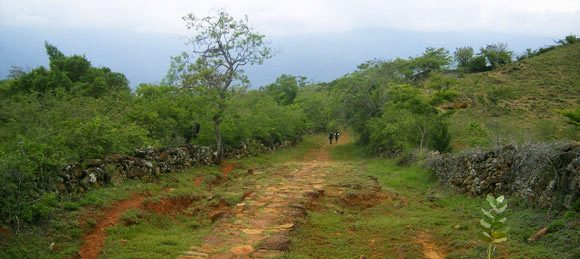 Camino Real walk from Barichara, near San Gil
If you need some suggestions for hotels, restaurants and transport in San Gil have a look at this guide. 
Return from Adventure Sports in San Gil to Homepage