Colombia: The only risk is wanting to stay
Long ignored as a tourist destination for it's shady past Colombia is finally taking its rightful place as the one of the most fascinating and beautiful countries in the world.
Breath-taking natural landscapes of every type imaginable, quaint colonial towns, thriving modern cities, and people with a warmth and kindness that will instantly make you feel at home leave a lasting impression on anyone fortunate enough to visit this stunning country.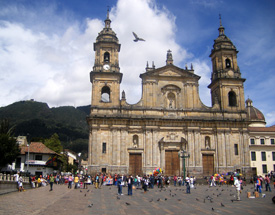 Plaza de Bolivar, Bogota DC
As the only South American country with coasts on both the Atlantic and Pacific oceans its shores are home to a wide variety of marine life. The majestic hunchbacked whales migrate along the pacific coast while the caribbean coast abounds with colourful coral reefs and crystal blue waters.
The interior of the country boasts everything from deserts to snow-capped mountains, jungles to glaciers.
Given the overwhelmingly negative media coverage the country receives it is hardly surprising that most people dismiss Colombia out of hand when it comes to planning their next trip. I can understand this because I was also once of this mindset!
The key is to speak to people who have actually visited the country. And I challenge you to find one of those people who doesn't rave about how wonderful the place is - it won't be easy!
So jettison all those pre-conceptions you have about this country and give it a chance. I did, and I've now almost clocked up almost a decade here with no plans of leaving anytime soon!
If you're looking for a slightly more reasoned argument about the country being safe for visitors than "Trust me, it's great!" then have a look at my safety guide for more reassurance.


Some Highlights:

Most South American countries are formed by a huge capital city, often on the coast, with an under-developed hinterland. Colombia is different. There are 5 cities with populations of over a million people each with its own unique culture and charm.
The sprawling capital, Bogota, is a fascinating blend of the traditional and the modern with its towering skyscrapers and modern apartment blocks contrasting with delightful colonial architecture.
Then there's Medellin, known as the city of eternal spring as a nod to its year-round perfect climate, Cali, the country's salsa capital, Cartagena, which features arguably the most stunning, colourful colonial quarter on the continent and Barranquilla, an important port city on the Caribbean.
And if you're looking for a more rural scene you will also be spoilt for choice here. The country abounds with quaint laid-back colonial towns dotted across the country's diverse canvas of landscapes.
Regardless of your destination be sure to check out cheap Colombia hotels for all your accommodation needs.
So whether you are planning to visit for business, pleasure, or both, prepare yourself to be amazed by everything this wonderful country has to offer.