SAN GIL
San Gil is a small town situated about 3 hours from Bucaramanga. The town itself is fairly average compared with many of the other towns in the department of Santander. But it is the surrounding natural landscape which attracts the increasing number of visitors here.
The Fonce River which skirts the town as well as the nearby mountains, waterfalls and caves provide the perfect setting for adventure sports; from kayaking to mountaineering, and rappelling to Caving. San Gil has rapidly become known as the adventure sports capital of Colombia.
The town slopes up the side of a hill. Most of the hotels, shops and restaurants are situated on the lower section of the town between the Fonce River and Carrera 8.
At the centre of the town is the Parque Principal which can get busy at weekends with people chatting and drinking beneath the tall trees. Sitting on the upper end on the plaza is El Catedral de San Gil.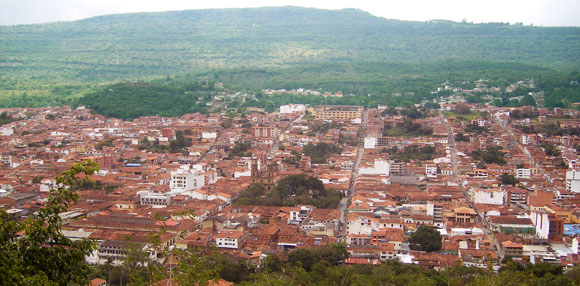 In addition to adventure sports San Gil is also home to a spectacular park called Parque Natural El Gallineral. The park is situated on the south-western fringe of the town on a triangular island between the Rio Fonce and Quebrada Curiti. It contains a beautiful array of flora and fauna and is particularly famous for the huge strands of tillandsia that wraps itself around the trees and hangs down over the plethora of streams that run through the park.
Parque Natural El Gallineral also contains a restaurant and a natural spring water swimming pool.
You enter the park from the embankment at Calle 6. There is a small admission fee.
25km from San Gil are the Cascada Juan Curi (Juan Curi Waterfalls). Take a bus to Charala from the main bridge of San Gil and ask the driver to let you know when to get off for the cascada. From there it's a short walk to the 180m high waterfall. There is a pool at the bottom where you can bathe.



Accommodation
Macondo Hostel: Calle 12 No. 7-26, Tel. (7) 7244463 website
As well as being a great hostel it also doubles as a tour company through which you book any kind of adventure activity or trip. Highly recommended.
Hostal Casa Monkora: Calle 9 No. 8-65, Tel. (7) 7237917
Hostal Isla Señorial: Calle 10 No. 8-14, Tel. (7) 7244442 website
Hotel Villa del Oriente: Calle 10 No. 10-47, Tel. (7) 7243579



Eating / Drinking
There are many cheap places to grab some lunch or dinner, especially around the Parque Principal. A great place to sip a few beers in the evening and give the adrenaline a rest is at Cafe Converso (Calle 12 No. 7-79).



Transport
The bus terminal is in the south-eastern corner of the town on the main road (carrera 12). Most buses, however, will drop off and pick up near the main bridge over the river at the intersection of Carrera 11 and Calle 10.
A bus to Bucaramanga should take a little under 3 hours. To Bogota around 8 hours.



Return from San Gil to Colombia Travel Guide homepage