QUIBDO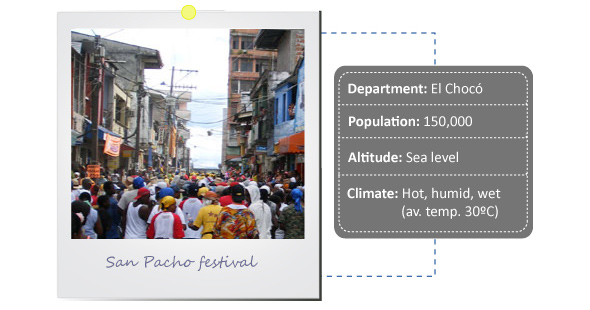 Quibdo is one of Colombia's most isolated cities. It is located on the bank of the Atrato River which snakes through virgin jungle leading to the Caribbean Sea and which at one time was considered as a possible route for a canal passing through the Americas before the Panama canal had been constructed.


Although situated just a 25 minute plane ride from Medellin the two cities appear as if they were from different continents let alone from the same country. This region is officially the wettest in the world. It is very rare to see 24 hours pass without a torrential downpour, and it does little to provide relief from the intense heat.
Quibdo is capital of the department of El Chocó and, while officially a city, it bears much more resemblance to a large town. Pretty much only the city centre has paved streets and concrete buildings, with the outskirts formed of dirt tracks and shacks made of wood or corrugated iron.
There is no decent water or sewage system in place to the extent that despite being in the wettest region on the planet there are occasional droughts as stored water quickly runs out.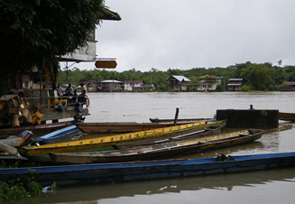 Quibdo and a large part of Chocó also continue to suffer from the presence of guerrilla group the FARC. Guerrilla related murders and kidnappings continue in this part of Colombia and tragedies continue to occur on a regular basis.
That said Quibdo has a strong army presence and you shouldn't experience any problems if you stay within the city boundaries. The security situation is constantly changing is to ask the police / military for advice on whether any of the towns around Quibdó are safe to visit.
The few westerners who travel to remote towns and villages tend to be with aid organisations and are supposedly protected from the guerrilla. In fact the vast majority of foreigners in even the city of Quibdó are with aid organisations. It's quite common to see official UN World Food Organisation cars bumping along Quibdo's streets.
Despite these problems the people of Quibdó are incredibly friendly and welcoming of tourists. They are very proud of their city, but also accepting of its flaws.
The biggest criticism people in this city have is corruption. A lot of the money Quibdó receives from the capital has a habit of mysteriously disappearing. An example of this is the road that has been planned from Quibdó to the pacific coast. The plan has existed for years, but money has vanished and the road has barely been started.


Attractions
Tourist attractions in Quibdó are few and far between. El Catedral de Quibdó (see photo right) is probably Quibdó's biggest landmark, sitting on the bank of the Atrato River.
From the cathedral it is worth taking a stroll into the small downtown area to visit the colourful markets and simply to people watch.
Most essential such as banks, restaurants, small stores and hotels can be found here. It is possible to go outside the centre into some of the poorer areas, but do so with caution. If possible go accompanied or at least check at your hotel or ask a police officer to make sure the area you intend on going is ok.


Return from Quibdo to Colombia Travel Guide