MAICAO
Maicao is a medium size town on the north-eastern border with Venezuela. It is a typical border town; ugly, dirty and at times sketchy.
Most travellers who come to Maicao spend only the time necessary to catch a bus or taxi, either to the border and on into Venezuela, or, coming from the opposite direction, to Riohacha, Santa Marta and beyond.
If you do find yourself with a couple of hours to kill in Maicao and a few pesos in your pocket, the streets around the central plaza form a street market where you can get hold of all the usual bootleg goods.
Here you can also change your pesos into Venezuelan bolivars (or vice versa). Have a good idea of the exchange rate before you approach a moneychanger. Most of them will give you an honest rate, but there will always be a few unscrupulous chaps you will try try to swindle you. There are plenty of moneychangers in the centre of Maicao so don't be afraid to walk away if this is the case.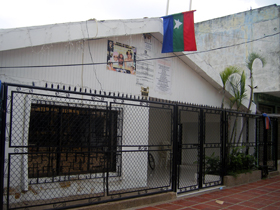 Aside from the wheeling and dealing there is one other worthy attraction in Maicao. The town has a sizeable Arab population and is home to Colombia's biggest mosque (and the biggest in Latin America outside of Brazil and Argentina). Omar Ibn Al-Jattab Mosque looks slightly out of place in Colombia, as do the Palestinian flags which often hang outside some of the houses (see photo, right).
The Omar Ibn Al-Jattab Mosque was built in 1997 and provides a place of worship for the some 2000 muslims living in Maicao. Providing it is open there shouldn't be a problem with having a peek inside.
Venezuela Border Crossing
Return from Maicao to Colombia Travel Guide homepage