BUENAVENTURA
Colombia's biggest Pacific coast city is Buenaventura. 60% of the country's trade is done through this port. However, despite this economic importance it is a somewhat neglected city. Poverty is high and in the last few years there have been violent clashes between the army and armed groups involved in drug trafficking.
Buenaventura itself doesn't have much to offer the tourist. The city is rough-looking and when the tide carries away the water, the litter-strewn mud flat which is exposed does little to inspire bathing.
Buenaventura really only serves the tourist as a gateway to more interesting and picturesque parts such as Juanchaco and Ladrilleros, several kilometers north along the coast, and San Cipriano, a jungle town located slightly inland.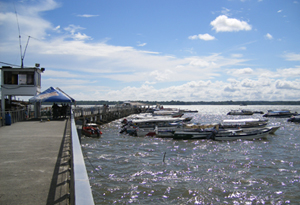 The main bus terminal is near the centre of the city. In an effort to promote tourism in and around the city there often helpful guides on hand to give you information and to lead you to the dock if you plan to visit Juanchaco and Ladrilleros. They are easily visible in tour guide T-Shirts and if you don't spot them chances are they'll spot you.
Boats to Juanchaco and Ladrilleros leave fairly regularly during the day until around sunset. Be prepared for a bumpy ride, and if you suffer from back or neck problems etc it might be an idea to forego this particular trip.


Return from Buenaventura to Colombia Travel Guide homepage