BAHIA SOLANO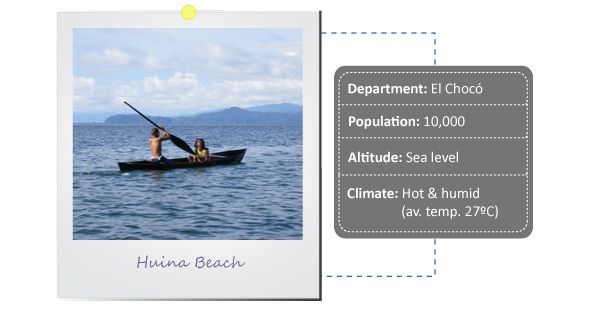 Bahia Solano is one of the best destinations on the pacific coast of Colombia. There are arguably better beach locations on the Caribbean coast, but it is the peaceful isolation of Bahia Solano that is its main draw.


Sheltered in a bay away from the choppy open water of the pacific, small waves lap at sandy beaches, beyond which lies hundreds of kilometers of untouched rainforest. If you're looking for a place to 'get away from it all' for a while, this is the place to go.


Attractions
Bahía Solano town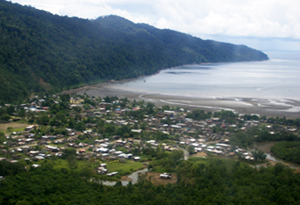 The town of Bahía Solano doesn't really offer anything for the tourist. It is a small, nondescript town with fishing (typically of the deep-sea variety) being the principal industry. It is possible to stay in the town itself, but there's not much point as Bahia Solano has no beach as such, just a flat area of sand and mud at low tide, tucked inside the bay (see photo, right). The best thing to do upon arrival is to catch a boat to one of the other bays nearby (see transport section below).

Beaches and Accommodation
Playa Huina (Huina Beach, see photo, below), about a 15 minute boat ride north of Bahía Solano, is one of the more popular beaches in the region. Understand that the word 'popular' in Bahía Solano is very relative. We're not talking hoards of package tourists sitting in beach tents being hassled by rolex watch sellers. Rather, we're talking a few small, wooden hotels at the back of a pretty beach and just a handful of tourists. Foreigners do pass through here sometimes, but their numbers are still very small.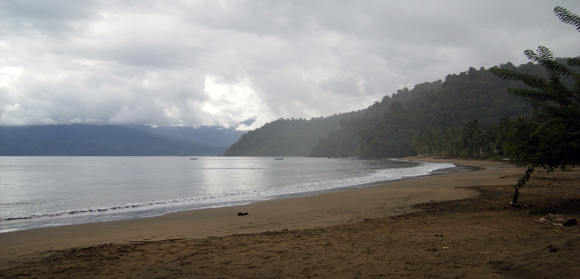 Finding somewhere to stay is a doddle as the small number of hotels are all situated on the short stretch of beach. I personally recommend staying at El Refugio de Mr Jerry, owned by a charming, if a tad eccentric, Dutch fellow who has lived in this area for decades. The hotel has about a dozen rooms with mosquito net. Dinner is included in the price and you can organise various trips in the area from there, including whale watching excursions during the whale season of July to October (see below).
Another good choice is El Almejal Ecolodge about an hour south of Bahia Solano on unpaved roads near the village of El Valle.
Other beaches such as Playa Mecana, Playita de los Potes and El Valle are also recommended. If you want to visit, but not stay, on any of these beaches, you can easily organise a boat trip from other places. Usually the hotel will sort it all out for you.

Whale season
The hunchbacked whales (ballenas jorobadas or yubartas) emigrate from Antarctic waters north to the warm coastal waters off the Pacific coast of Colombia to give birth to their offspring. They generally arrive during the month of July and in October begin their southward journey beyond the tip of the South American continent to cooler waters.
The towns of Bahia Solano and Nuqui provide great jumping off points for boat trips out into the Pacific in search of these magnificent creatures. They are generally more visible during the morning hours and so most tours head out at this time. Even at the high point in the season (usually around August) there is no absolute guarantee of seeing a whale. If you are lucky enough to witness one of these enormous mammals breaching please don't tell me about it as I was one of the unlucky ones to return to dry land disappointed!

Return from Bahia Solano to Colombia Travel Guide