Armenia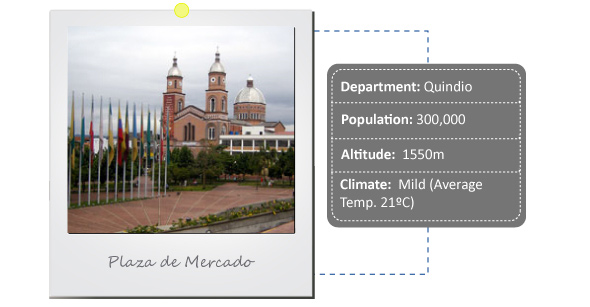 Armenia is the smallest and least developed of the three coffee region cities. The main reason for this lack of development is the huge earthquake that hit the city in 1999 and which destroyed around 30% of its building. The city centre has been more or less fully reconstructed, although most buildings are now relatively short compared to the much taller buildings of the city pre-1999.
Armenia has a small but bustling city centre, but on the whole is a rather quiet place. There is not much for tourists to see or do inside the city, but Armenia is not an unpleasant place to spend a night as a stopover on the way to, say, Bogota.
If you do find yourself here with a few hours to kill pretty much all of the city's sights are found within a small area in the city centre.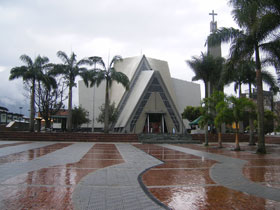 La Inmaculada Cathedral located on Plaza de Bolivar is quite distinct due to its triangular facade (see photo, right) and is worth a visit.
Seven blocks north from Plaza de Bolivar is Parque Sucre, a pleasant little leafy plaza which includes a nice cafe.
A few blocks north-west from Plaza de Bolivar is the Plaza de Mercado. The plaza covers four blocks and is home to the impressive San Francisco church as well as the Mayor's headquarters (see photo above).



Hotels
Hotel El Quijote: Crr 15 No. 25-8, Tel. (6) 7440663
El Quijote is a comfortable and modern hotel located on the southern edge of the city centre, about 4 blocks down from Plaza de Bolivar.
Soscanela Hotel: Crr 15 No. 14-45, Tel. (6) 7468811
A decent hotel a block from Plaza de Mercado.
Hotel Bolivar Plaza: Calle 21 No. 14-17, Tel. (6) 7410083 website
More up market is the Hotel Bolivar Plaza which includes a top-floor restaurant and a bar.

Soccer
Deportes Quindio play their home games at the Centenario de Armenia stadium.
They are a relatively small club whose only championship was won back in 1956. Since the two tournaments a year format was introduced in 2002 Deportes Quindio have never qualified for the playoffs. In recent years they have flirted dangerously with relegation to Division B.

Return from Armenia to Colombia Travel Guide